Your Vision Source Olmos Park eye doctor.
Jason Deviney, O.D.
Dr. Deviney is a South Texas native, growing up in the towns of Alice and Freer. He received his Bachelors degree in Business Administration from Texas Tech University in 1994 but decided he wanted to help people see better.  So he re-enrolled and took the prerequisite courses needed and graduated from the University of Houston College of Optometry in 2000. Upon graduation, he practiced in Kingwood, Texas working his way to Clinical Director of the Kingwood Vision Source Laser Center. After nine years there, his family moved to Keene, New Hampshire to join a practice but missed Texas too much and is now back closer to home.
Dr. Deviney's specialties include contact lenses, refractive surgery co-management, glaucoma management, ocular disease treatment, and treatment of binocular vision abnormalities that may cause reading comprehension problems in patients of all ages.
Dr. Deviney practices what's known as Behavioral Optometry, which takes a holistic approach to vision care.  You are treated as a whole person and your visual problem as a part of the whole system.   Dr. Deviney has studied the effects of stress on vision. Through the use of carefully selected stress-relieving and preventive lenses and visual training, you can enjoy relief from even the most stressful close-up visual conditions.
At the beginning of 2016, Dr. Deviney took over the vision therapy practice of Dr. Mervyn Bloom here in San Antonio to help children with vision-related learning problems.  The practice is known as Vision Therapy of San Antonio.  The vision therapy practice has been expanded to help patients of all ages with amblyopia and strabismus as well as patients who have suffered from brain injury.
He is currently a member of the College of Optometrists in Vision Development, the Optometric Extension Foundation, the Ocular Nutrition Society, the Texas Optometric Association and the American Optometric Association.  He has also been on advisory panels for Allergan pharmaceuticals and contributed to articles in Optometry Times.
After purchasing this practice in 2015, he is now seeing patients full time in Olmos Park. Be sure to follow his Twitter account at twitter.com/eyedocdeviney.
Dr. D has been married to his wife Christine since 1995 and their daughter Jillian will graduate from Alamo Heights High School in 2021!
---
Lindsey Brewer, O.D.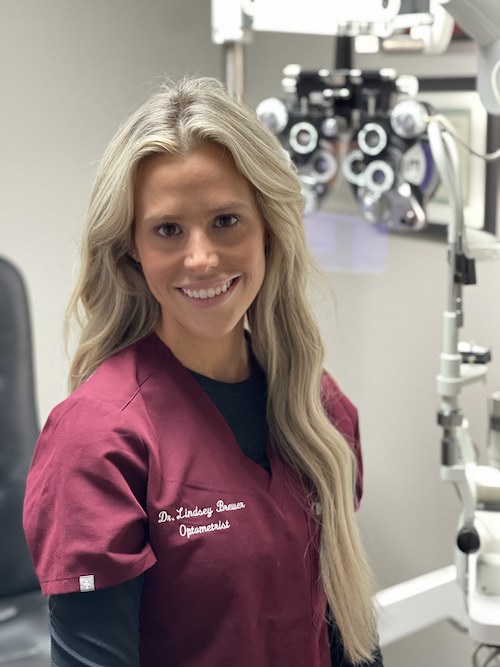 Dr. Lindsey Brewer was born and raised in Michigan, in a family of healthcare professionals. At an early age, Dr. Brewer's interest in eye care piqued as she watched her father (also an optometrist) diagnose eye conditions and help patients see at their best.
Dr. Brewer was accepted into the Honors program at Ferris State University in MI. After achieving her Bachelors of Science in Biology in 2008, Dr. Brewer headed to Houston, TX to pursue her dreams of optometry at the University of Houston College of Optometry. Her externships were completed at La Nueva Casa de Amigos in Houston and Fort Sam Houston Troop Medical Center in San Antonio.
In 2012, Dr. Brewer graduated with her Doctorate of Optometry as a therapeutic glaucoma specialist. She has worked closely with ophthalmology for several years and has gained invaluable experience as part of a multidisciplinary team of surgeons and clinicians. She is well versed in eye disease, cataract evaluation, pre/post-op LASIK exams, pediatrics, and contact lens. She attends optometric continuing education meetings throughout the year to keep up with the latest treatments and technology.
Dr. Brewer enjoys spending time with her husband and children, and their goldendoodle puppy. She is an avid Peloton cyclist, loves pilates, traveling, and she'll never turn down good sushi!
Dr. Brewer has practiced optometry all over Texas and along the gulf coast, and has finally settled back in San Antonio, TX. She is happy to be back "home" and ready to serve all of your eye care needs!